---
Once jroot shared pictures of his beautiful Brugmansias with us, I was hooked. I can't say if I had ever seen a 'brug' before, but I was hooked once I saw John's pictures. When my neighbour offered me a 'slip' of a brug, even though it looked like a bare stick, I knew I had to try and grow this beautiful flower.
I have to admit, I doubted this 'stick' would grow, but I was wrong! I didn't even take a picture of the stick, bc of my doubt, but I dusted what I hoped was the root end of the stick with root hormone and planted it in some good potting soil. Within a few days I saw new growth in the form of green nubbins, which then grew into small leaves. Probably two weeks later I had the small leaves seen in second picture.
I had heard that a brugmansia would not bloom until it had developed a 'Y' in it's growth, so I watch for this 'stick' to develop new branches therefore forming a 'Y'.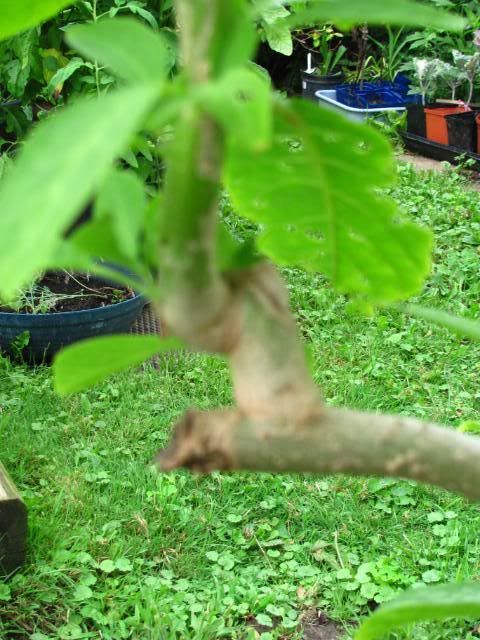 On John's advice, I watched for the development of the special leaves that indicated the plant would bloom.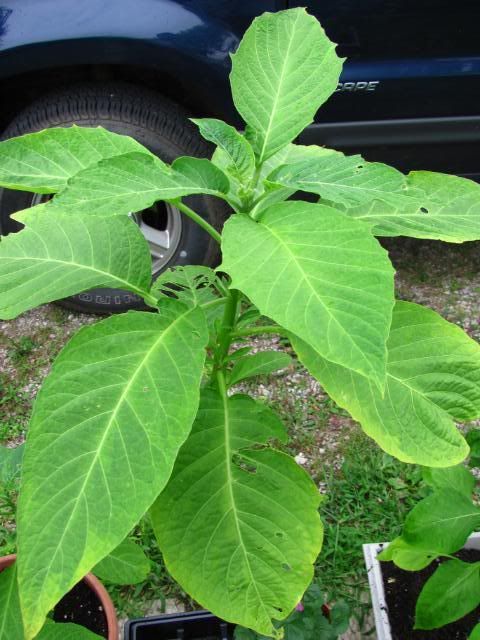 Even as the plant grew and became more promising-looking, I still doubted I would see a bloom this year, but I was prepared to wait, even until next summer if that what it took to bloom. The plant surprised me, and from June when I received a 'stick' to one Sept. morning I found this…..
Late in the season to start blooming, but maybe extra nice bc other flowers were beginning to slow down by late September. Once the brug starting blooming, there has been no stopping it…...well maybe frost would stop it, but acouple days ago I brought the plant indoors. And that's when I found out, "Yes, John. It has a very strong fragrance!"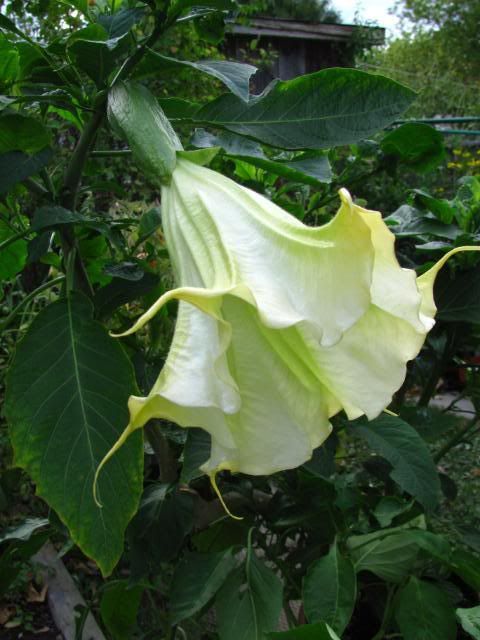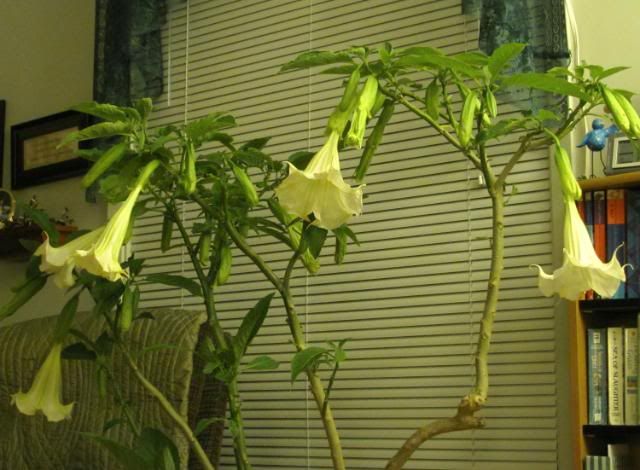 -- 'To plant a Garden is to believe in Tomorrow'
---
---
---