---
Out and about the garden this morning, I took some pictures of some of the annuals that I started from seed early this spring. A couple I was disappointed with and won't plant again and a couple I definitely will grow again.
The first one is the strawflower pictured in the first zoom picture and here,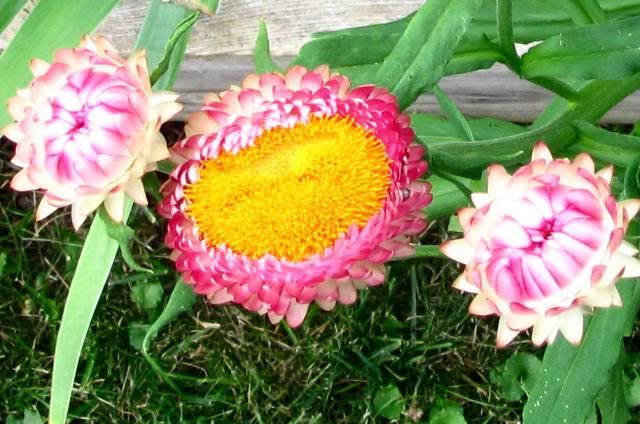 Perhaps it is the type I grew, but while these flowers have an interesting bloom, it is almost insignificant compared to the size of the plants and unattractive foliage. I'm glad I tried it but will not grew it again.
I like these little African daisies better but the bloom is very small and the plant sprawls in every which direction. They are not even very attractive in the window boxes bc the foliage is so skimpy.
I like the colour of them but the calendulas that I rec'd from Bon have the same yellow and orange colours and have larger blooms and more upright foliage. And I will grow these calendulas again next year.
A plant that I definitely will grow again next year is the coleus! I love how it has taken off, the variety of the foliage and the number of plants from one package of seed. I got over a hundred plants, many I gave away. The ones I kept are wonderful…..even though the earwigs seem to like them as well and some of the plants have lost leaves to the earwigs. You can see the damage has not detracted from the appearance of the plants.
Morning Glories have always been one of my favorite flowers. The old-fashion purple/blue MG have tendency to take over a garden (almost as bad as it's cousin, bindweed) unless one is diligent in removing millions of seedlings each spring from an area where they have grown the previous year. :) I was ecstatic when I found the hybrid 'Heavenly Blue' does not re-seed itself in this zone. It means I have to re-plant each year but that takes such little time compared with searching for and pulling millions of unwanted seedlings. Now this year I have found and planted a small bush morning glory. I planted two types; 'Tricolour Ensign Mix' and 'Sunny Skies' in my window boxes. I am very pleased with the bloom and foliage. The plant is upright and sturdy, and the flower very beguiling. I guess I'll have to wait to see if it reseeds itself. The directions on the pkg. instructed to dead-head to keep it blooming until frost, so maybe there won't be any seeds to self-seed.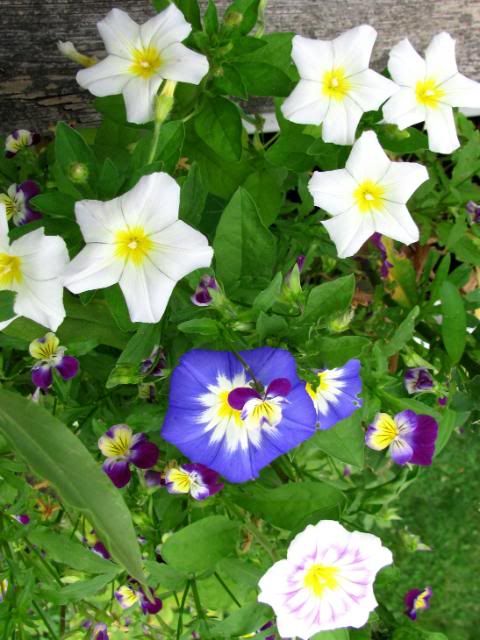 Everyone that has grown this malva, 'Zebrina' has warned me that I won't need to re-plant them next year. They self-seed abundantly…..I hope so bc I like these these flowers too. This is one of the winter -sown plants. So far they are well behaved, nice upright foliage and attractive flower.
This last one is not a flower but I will grow it again as it has done so well. I admit I am looking forward to tasting it. Amish paste tomato. :)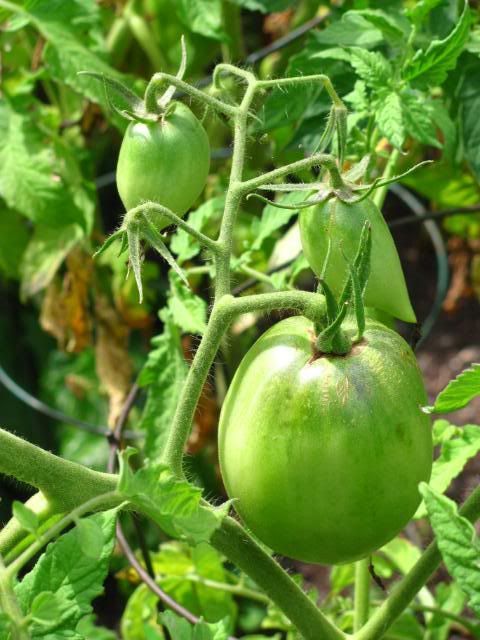 I am pleased with all the results of my early sowing and look forward to trying new varieties next spring. Perhaps I'll even try some perennials from seed. (Heaven knows where I would plant new preennials!)
-- 'To plant a Garden is to believe in Tomorrow'
---
---
---