---
No More Watering By Hand
As "da little women" consumes more and more of the yard with flower and vegetable beds, watering the little gems becomes more and more of a chore. While water sprinklers in Florida is a must for the lawns, the ones we use would simple beat the plants to death. So, Pam has been watering the many beds with a hose by hand. This can take up a lot of time, especially when we have several home made "Earth Boxes" which utilizes a fill tube process, as opposed to simply soaking the soil.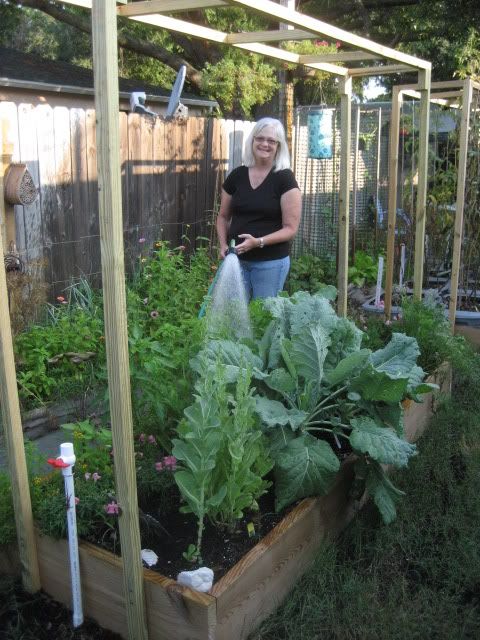 When I constructed these two beds (12"high x 3'wide x 8' long) Pam needed a structure to help support the tomato vines that would be growing from the earth boxes. With that, I added side supports and a top canopy. I drilled holes in the four upright side supports to which we strung wire, running length wise with the box. This gave the vines something to hang onto as they grew upward towards the sun.
One morning as I sat on the deck enjoying a cup of coffee, I was struck with pain as I watched PJ spending so much time watering. While I could offer to do the watering for her; there had to be a better way. Holding up my near empty cup of coffee (her waitressing skills are lax – no tip for her) I told her I had an idea.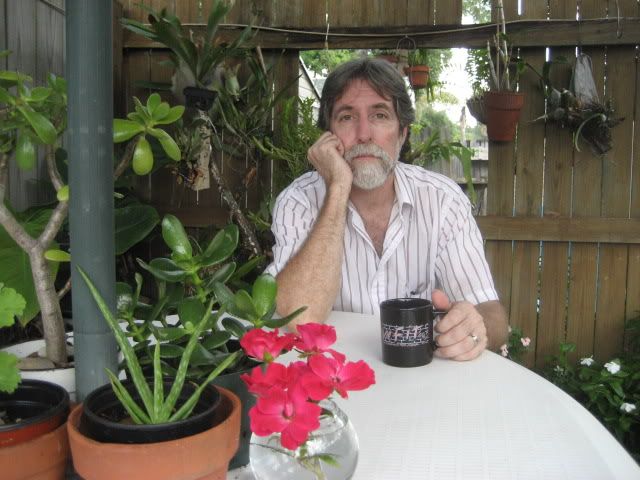 As Pam pointed out, we have two very distinct watering needs. While one bed can be soaked as if a good Florida rain had popped up, the other must be watered individually into the container's fill tubes. Hmm, I could see this would be a three cup morning "better brew more coffee sweetie as I think this one out".
The answer we came up with required two separate and independently controlled watering sources.
I brought ¾" PVC to one of the beds; tee'd off and reduced to ½" PVC. You can see that I have ran the two separate lines up the side supports and each have their own shut offs. I then cut the pipe needed for the first bed and marked where it would rest on top of the five cross bars and drilled 1/16th holes into the pipe (no holes at the cross bars). The section at the far end is drilled slightly larger 5/64th. I'm not sure this was needed or be of any benefit – but they are larger.
The second pipe runs the length of the first bed and over to the second bed – the one with the "earth boxes." Here I cut the pipe and added tees between each cross bar. The bottom of the tee is threaded and has a special fitting with barbs is inserted allowing me to use what my plumbing supplier called "funny pipe." When I got the bill I understood why it's called funny pipe. I, however, was crying!! This piping is very soft, flexible, and has some other neat applications which I sure Pamela will have us employ in the near future. I simply cut the funny pipe to length, attaching one side to the barb and placed the other end into the fill tube.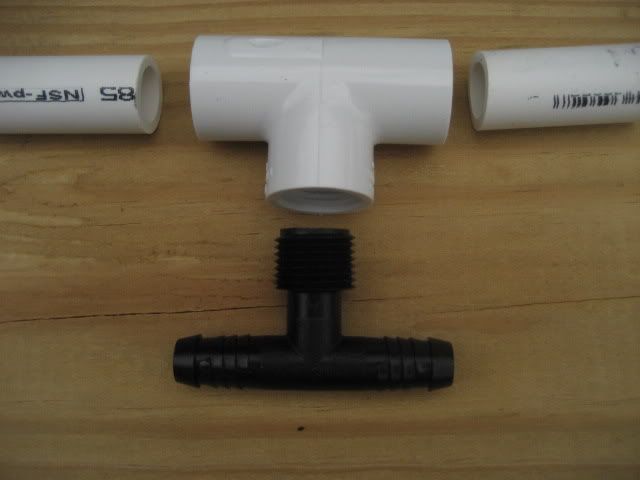 Now Pam can water these two beds with little effort while I enjoy my morning coffee. Perhaps with all this new found time on her hands, she could being to mow the yard before going off to work… hmmm!! Another cup of coffee honey , while I think this one through!!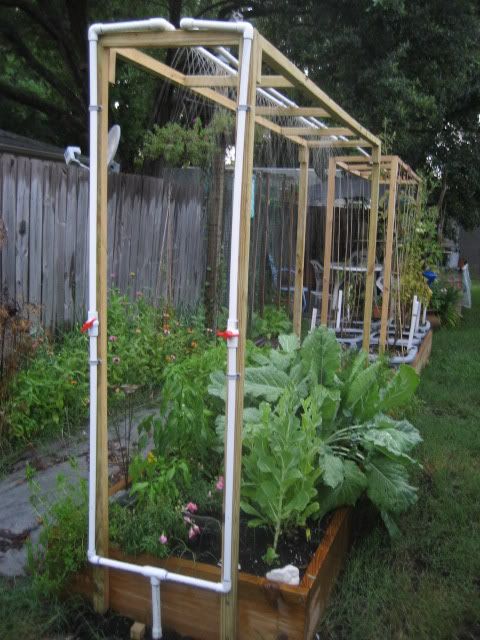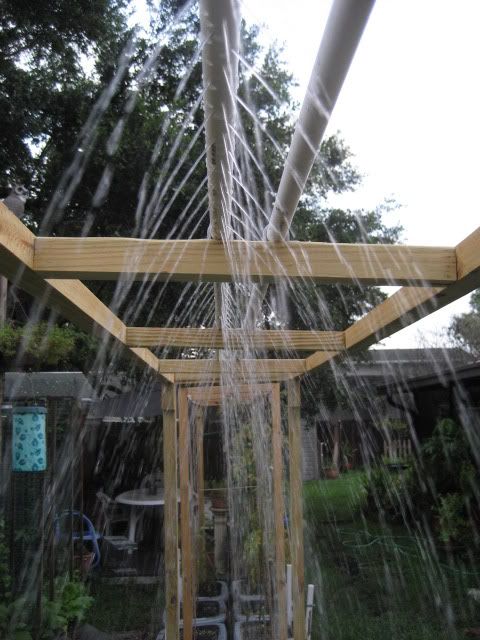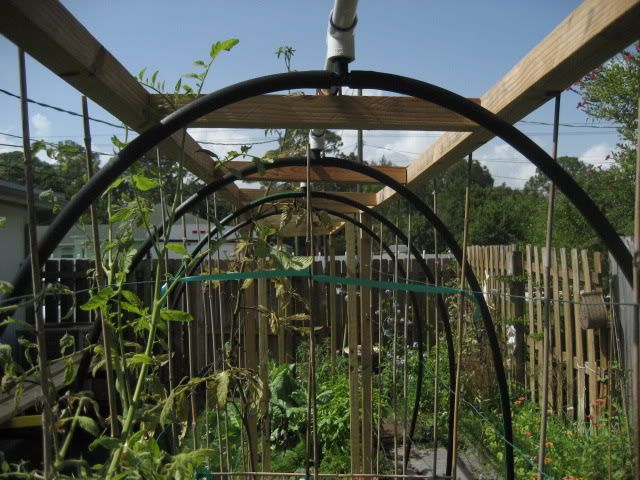 And da little women is happy again!!!
-- Pam grows 'em - I cook 'em...... Melbourne, Fl
---
---
---