---
Currently about 80% of my gardening space is devoted to the veggies. We've had vegetable gardens since I was knee high to a grass hopper, and I guess somethings never change. The current plot I'm working on has evolved since I started. It was orriginally 2 raised beds. They worked ok, but they were a bit difficult to rototile first thing in the spring, and we had a heck of a time with the grass growing up under the walls so there was constantly grass that you could get rid of. Then there was the weed whipping involved aswell as mowing between the beds(2) which always ended up with grass clippings and the full complement off seeds that comes with it. So we only kept them for a year or two before killing off the grass between, scrapping the wood and going to a more traditional plot. It's more then doubled in size since those days. Squared off by the laneway, path for driving behind the barn and limited by planned driveway expansions at the front.the little space remaining between it and the barn will be taken up (hopefully this spring) by a rion greenhouse that I have to put up. We decided to make our garden this big so that we could spread it out, the more space between plants the easier it is to get around and to maintain it. Thats key for us, low maintanence! The rows are atleast 4' appart so that we can go down them with the tiller and take care of the weeds.
So for the actual veggies we grow, I guess the most prominent are the tomatos. We grow several differnt toms, from early to late ripening, cherry sized to giant beefteaks, we also grow a variety of colours, differnt shades of reds and pinks, yellows too (we have yet to find other colours that meet taste expectations). All cherry and grapy tomatos get grown on one of the grates, they grow kind of wild so its easier that way ;) The "standard" varieties all get grown in a row with our custom stands (T-rail with welded rebar loops about 5' out of ground). We learned long ago that tomato "cages" could not contain our plants and ended up with broken plants. Next we used wooden stakes, by the end of the season (when you need them the most) they would end up breaking on us, either from rot in the ground, plants were just too heavy or all of that coupled with thunder storms. Now with these new holders we've got very little to worry about although we do have to watch that we don't end up with fruit clusters formung inside the ring. We pinch off alot of the side shoots otherwise wed end up with very bush plants, many plants end up being single stem all year long where as others we lt 3 or so stems go, just depends on how the plants are growing.

Varieties
Beefsteaks
-Bush Beefsteak – great plant, been in the garden year after year, more compact habbit, good sized fruit thats not giant, good taste, and problem free.
-Burpee's Supersteak Hybrid VFN- This will be the first year for this one, but i picked it for the high disease resistance, reported good flavour and colour plus fruits weigh upto 2lbs each
-Porterhouse Hybrd -new this year for me, 1-4lbs each, deep red and suppoed to be super sweet!
-Mortgage Lifter – New this year -1.5-4lbs fruit, pink/red colour, supposed to be very flavourful and productive, aswell as disease resistant.
-Big Beef – AAS winner, standard beefsteak with improvements all around
-Beef Master – Reported to be one of the best tasteing beefsteaks, up to 2.2 lbs fruits, deep red, very meaty.
Early, and mid sized fruit
-First Lady – Good taste, standard red tomato
-Early Girl Hybrid – heavy crops, early (but not puny) and good disease resistance.
Non reds
-Golden Queen – Large bright lemon yellow fruit, sweet taste, high disease resistance.
-Pink Ponderosa – First year, Large dark pink fruit, low pulp!
Cherries
-Sweetie – unbeatable, tons of bite sized cherry tomatos, super sweet, huge plants, continuous production.
-Christmas Grape – Scarlet red, tons of fruit, sweet flvour.
Those are the varrieties I will for sure be growing this year. Chances are that I will add quite a few more (specifically slicing). I have tried others, also wasn't overl;y impressed with some, others just aren't good here.
The second Big crop in the garden is Peppers. Specifically sweet ones usually of the bell type. We've found that growing them in a double row works well to help keep them upright (due to the wind) and protects the fruit. Regular thinning of pepper clusters has elimitated almost all branch breaks aswell as increased peper size.

I'm a sucker for the giants!
- Great stuff Hybrid – great flavour thick walls, fruits are 6-8" long bell type. Red(starts green). Disease resistant.
- Golden GiantII Hybrid – Super sweet thick walled giant yellow(starts green) bell type peppers. Disease resistant.
- Super Heavey weight – Super thick walled and big blockey pepper that starts green finishing golden.
Last year I also grew claifornia wonder peppers and key stone giants (good sized elongated bell pepers, low- average yeild). In the past I have grown purple peppers but they come from the white/yellow juvinile pepper class which I find decidedly lacking in taste!
Cukes – I have a proble with most cukes here, combination of powdery mildew and something else that will wipe out the adult plants eventually, one of those things that made the headlines, apparently blew over from michigan(nothing against them, just the way the wind blew), but that dosen't stop me from growing them. I like an english type cucumber. Nothing with giant seeds, and not pickleing type! Grew 3 kinds in hopes that something would make it longer, but they all faired better then last year. these are grown on the grates.
Varieties
Hybrid Burpless No.26 – has been my standard for years. Great cucumber super productive, and good disease resistance.
Burpless Hybrid (OSC)- new last year, good overall. very long fruit, slightly slower to produce then no. 26. held out the longest.
Tastey Green Hybrid – might have some mixed up seed or another varriety might have come up with it, but the plants and more specifically the fruit was not uniform, and what you would expect if you crossed a pickeling type with english type. I'm trying it again this year to be certain.
Thats the last of the major crops. The rest are half rows at most.
Kohl Rabi (vienna white and purple, and giant white) all easy to grow, we didn't use all of them may not plant them this year, not sure.
Swiss Chard is a standard in the garden. Extras are fed to the rabbits. Great for stir-fry, steamed, or even saladas (or so I'm told). We grow ford hook giant(white stem green leaf), bright lights yellow(yellow stem green leaf), rubarb chard (purple leaf red stem) and silverado (same as fordhook). Probably just going to do the white stemmed varrieties this year. Althought they all taste the same, the coloured varieties look odd when cooked.
Pole beans kentuckey wonder series (yellow wax aswell as green) we've grown them on the grates aswell, heavy yeilds, but we may grow bush beans this year as a change of pace.
Zucchini Darke green and hybrid gold rush, super productive, and trouble free.
Black Beauty eggplant – very prolific and big dark fruit. First year growing them was last year and they produce alot! 4 plants is too much for 3 people once it gets started hehe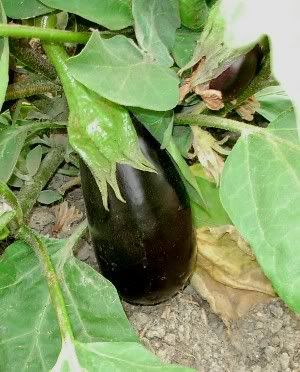 We have also in the past grown tons of squash, which we no longer have a plot for. Very easy, plant, weed till they get bushy then watch them go, loves water. Sweet Corn is in a simular boat, have grown it in the past, but don't have a plot available for it this year.
Looking forward to plotting out this seasons garden hope you are too now!
Sib ;)
---
---
---