---
I figured it would be easier to group the other carnivorous plants into a new project and leave the orriginal pitcher plant post alone as it's probably long enough. I keep a range of CPs in with the pitcher plants, some are temperate and will require a winter dormancy period like the pitchers, some are seasonal items that I dig up before the first frost and other are annuals which I just collect the seed from.
First and foremost are the Venus Fly traps, which is the first plant that comes to mind when people think about CPs. Many imagine it comes from steamy rainforests but thats far from the truth. In actuality, it's a southern america resident, which means it needs a cool winter rest period, and with some mulching will survive our canadian winters. Fly traps come in a wide range, from typical reen plants with some red in the interior of the traps and pointy teeth, to solid red o purple plants, giants, and various "teeth" mutations, saw traps, fused teeth, crossed teeth, shark teeth, the list goes on. Here are a few of mine:

There are a few butterwort species out in the bog also. These fly paper plants are aslo referred to as bog violets. In the winter they die back to compact buds called hibernacula which in less cold tollerant specias are easy to collect and throw in a baggie in the fridge for the winter.

Also in the bog are a few different sundews. Some are gras like in appearance, others are of a forking leaf structure, and others still are of a smaller size with padle leaves. I grow binata coplex (the forked sundew), filiformis (thread leaf sundews), rotundifolia, angelica and intermedia sundews also. The binata complex in particular is quite fleurifous.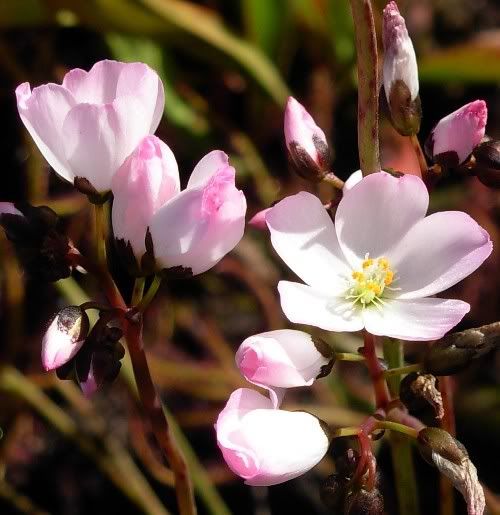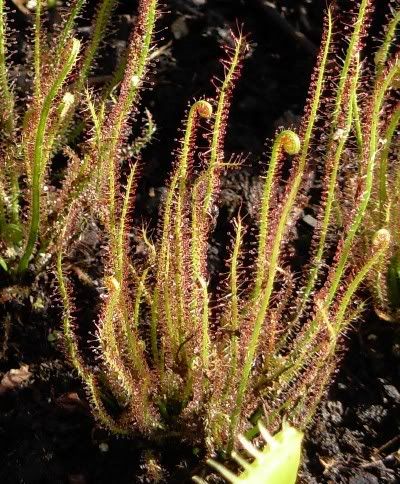 With sundews in particular there are a bunch that can be put out for the season, well pretty much any can be as most love full sun. There are a few annual ones inwhich I just scatter some seeds in the spring, D. indica, D. burmanii, D. dielsiana… This spring I intend to put cephalotus out directly planted to grow out some bigger sized plants. There are hardy bladderworts that can be planted into bogs such as mine, but I have yet to find one I like. We are looking at expanding the bog (or rather building a second one) this summer perhaps, it will depend on wht my germination rate is like on my seeds this spring, and how hard everything grows.
Thanks
sib ;)
---
---
---