---
This was my project for June of 2007? Technically we got started on it in the late summer of 06, but only got half way through. When I designed this project, I had in mind functionality not so much beauty. I wanted it easy to weed, easy viewing and photographing, and for future hybridizing efforts I wanted all plants easily accessable from the outside so the flowers can be hand pollinated. It's located on the side of my main garden, betwwen the berry patches and the barn. I'll have to go out and get some actual measurements, but it's got to be around 15' long and 4-5' wide, and it's about 2-3' deep. I've learned a few things now that it's been in operation for nearly a year, bu I'll go over that later.
Back to the construcion. It was fiarly basic, chissle out my desired sized pit out of hard amherstburg blue and yellow cly (that hasn't seen rain for most of the summer), I made it slightly deeper on the one end. Then we lined it with some heavy duty pond liner. Next step was to bring in some river rock and pit about a 4-6" layer (depending on grade). Thats where it ended till 2007 came along as i was wanting to set up a water circulation thing that was soley solar. I decided in 07 that i would press on and deal with that later, so for slightly easy access I laid a length of 6" Big-O from one end to the other right at liner level. Next it all got covered in a layer of geotextiles (i'm sure landscape fabric or something simular would work if you could get it big enough, but we had this left over from an errosion project at the back of the feild where we built a gabian wall). Once all that was done, it was time for the soil. Carnivorous plants come from sphagnum bogs, they like very acid soil, that is neutrient poor. A standard CP mix is 50/50 peat/sand or pearlite. I use a more peaty mix just because i want it to retain more water. I was going to use pearlite because up to this point I had not found a safe source of NON MINERAL sand, but didn't want the green snow effect on top so the top 4" was pure peat till later in the year when i found silica sand. I think i used 14 big compressed bales of peat for the bog. Each one had to be completely loaked and worked over good before it was able to go into the bog, as you can imagine, this took quite a bit of time (most of a day if i can rememebr right!). I hand pressed this down some once it was all in and stacked it kind of tall. Once we had a good rainstorm to push everything down deep, if was finally time to plant!!! Most plants were comming from a dorment stage in the fridge, but a selection of adult pitchers were comming from my growstand and were in 4" pots already. I had no where for such a large asortment of full sized pitchers to harden up to the sun, so most ended up getting sun burnt :( but all the seedling plants did get aclimized, do sunburns for them.
I tried to orginize the bog based on species, (there are 8 species and a bunch of subspecies of pitcher plants) I figured this would be my best bet for keeping track of the plants. So I started with fubra at the deepend.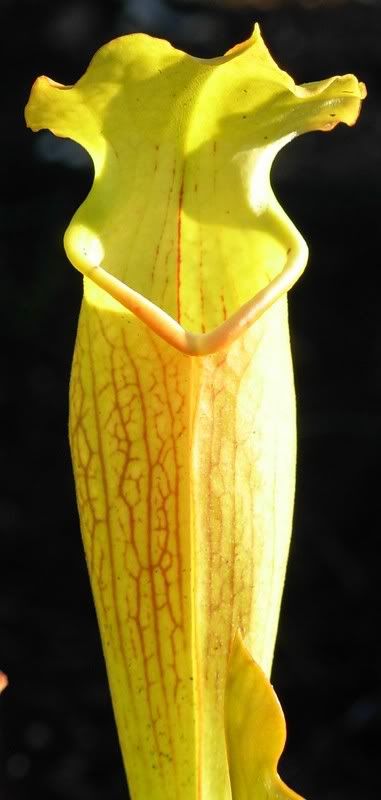 S. rubra ssp.alabamensis
The roubra group is an adorable set, they tend to be smaller in stature, but have great varriety in colour high pitcher density (more pitchers per growth point and more point then an average plant), and as an added bonus, the bright red flowers are lovely scented, best described as cherry kool aide. I keep all of the subspecies and several forms.


rubra of an unidentified form with great colour
Next set was the flava group. Depending on who you follow, there about 6 varieties, I choose to follow that they are varieties and not forms, there is quite some debate in this respect. I have finally managed to secure all 6 varieties. Flavas have big bright yellow flowers but they are a bit musky in smell. Best pitchers are produced in the late spring and early summer.


S. flava var. ornata – one of my favourite plants!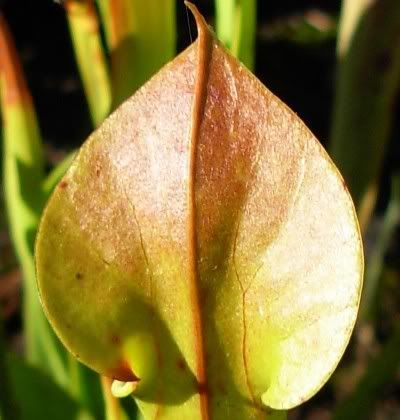 S. flava var. cuprea
Next is my lone plant of psittaceina. Its a very odd shapped pitcher plant, only suited to catching small insects, but brightly coloured. It's been known to make good crosses, adding hardiness and colour, but also adding some odd shapes. One of the red flowering pitchers.


-S. psittacenia
I keep My purpureas through out the bog, but the ssp. venosas are nearest to the psittacenia. This is a nother short or stature plant, but by far the widest ranging pitcher in the worls. with the species being as far north as thunder bay and as south as the florida panhandle. It's actually New Foundlands provincial flower! I grow the 2 subspecies (ssp. purpurea(northern) and ssp. venosa(southern), aswell as any forms I can get my hands on!


S. purpurea ssp. purpurea F. heterophylla – completely lacks normal red pigment, a flourescent green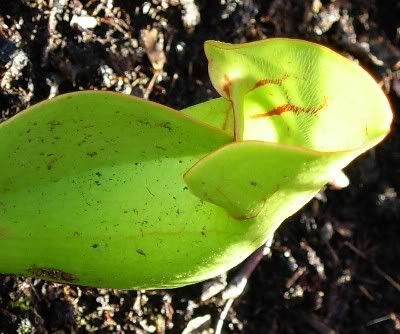 S. purpurea ssp. purpurea – typical plant, smooth hood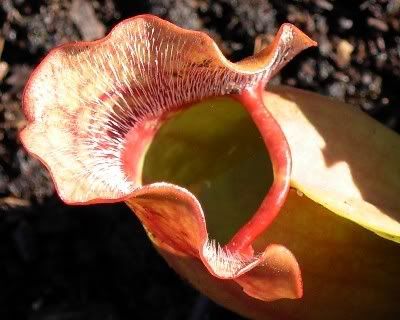 -S. purpurea ssp. venosa – notice the oversized and ruffly hood?
Centered in the bog is the colourful leucophyllas which I find to be the most attractive hands down. These are classed with flavas and alatas as being some of the larger pitchers, there is nothing more traffic stopping then a mature leuco pitcher in the height of fall. To contrast with the brilliant whit pitchers, flowers are bright red. Best pitchers are in the late summer to fall. thers only one species but many forms, this is one of those plants I always try and get more of!


juvinile from deer park alabama, this is only a seedling from '06 I love the potential!


vigorous form with better pitcher density


After the colourful leucs comes alata, also called pale pitcher plant. This is another strong fall pitcher, with the largest pale yellow flowers. Also supposed to get some size once established. Looking forward to seeing them this summer as it was really beginning to take off late last year. They're available in a varriety of patterns typically green or greenish yellow with various amounts of red veining, with some beter forms being red throated, or my personal favourite black tubes!


S. alata typical
Next is oreophila, which looks simular to typical flava in manyways, but unique in its own right. I'm not overly fond of this species so far, but it is incredibly useful for crosses. Resulting offspring have increased vigour and are more cold tollerent. I plan to watch it a bit closer this season to truely evaluate it.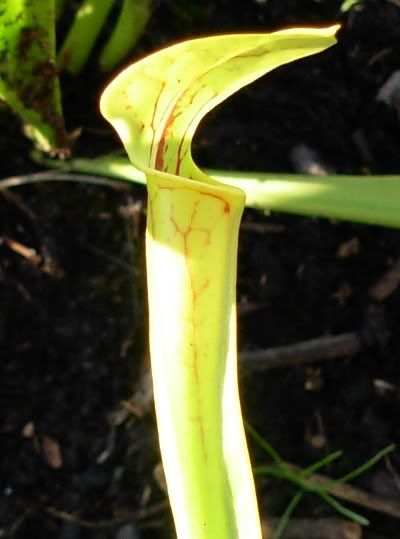 S. oreophila
And last but by no means least is minor. This is a stand out pitcher with light windows and buttery yellow flowers. Most varrieties are 10-24" tall, but theres a giant form from okeefenoke swamp. Some have minimal or only trace amounts of red where as other have entirely red pitchers.


S. minor


S. Minor-red form
The hybrids
Through out the bog are various hybrids, crosses and cultivars, I'll just highlight some of the best!


S. alata x minor


S. leucophylla 'Tarnok' – not only dose it sport impressive pitchers it is double flowering


S 'Dixie Lace'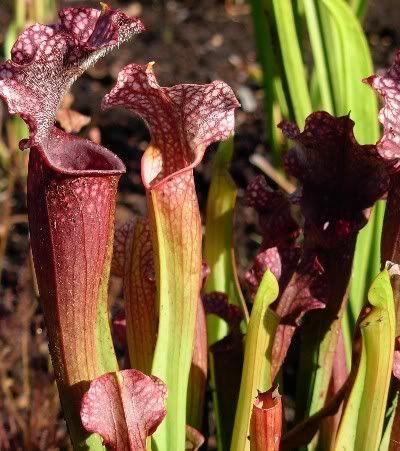 S 'Judith Hindle' early summer, fall below


S. 'Hummers Hammerhead'


S. Mardi Gras
Theres such a varriety out there that I could go on forever, but I'll try not to bore you guys. Atleast you can get an idea of whats out there to be chosen.
Thanks
sib ;)
---
---
---