---
We built my 10×18 greenhouse 6 years ago mostly from salvaged windows, doors and other material. It took us a couple years to collect everything either finding items by chance or having friends donate "junk" out of their garages and barns. The GH was then designed around the best of what we had collected.
Construction began in Sept of that year, with the building being closed in before winter weather began and the final touches being finished in the early spring…just in time to start growing!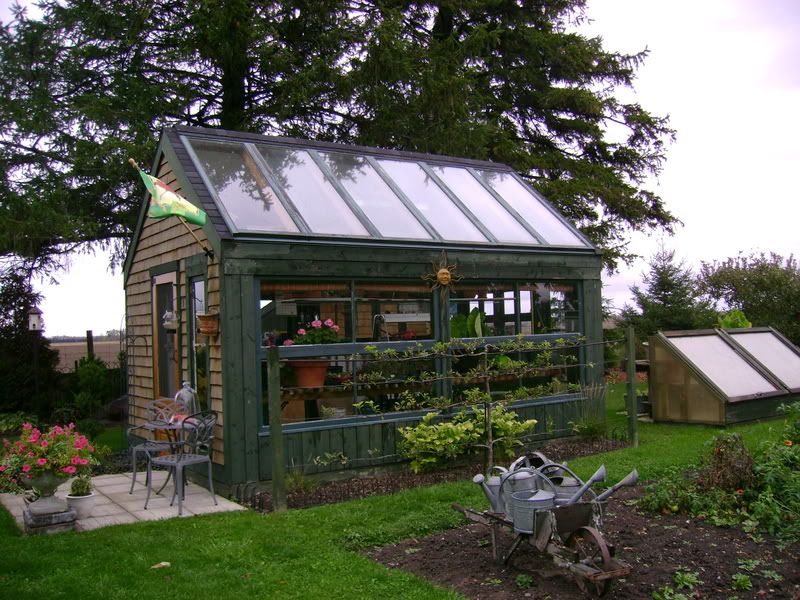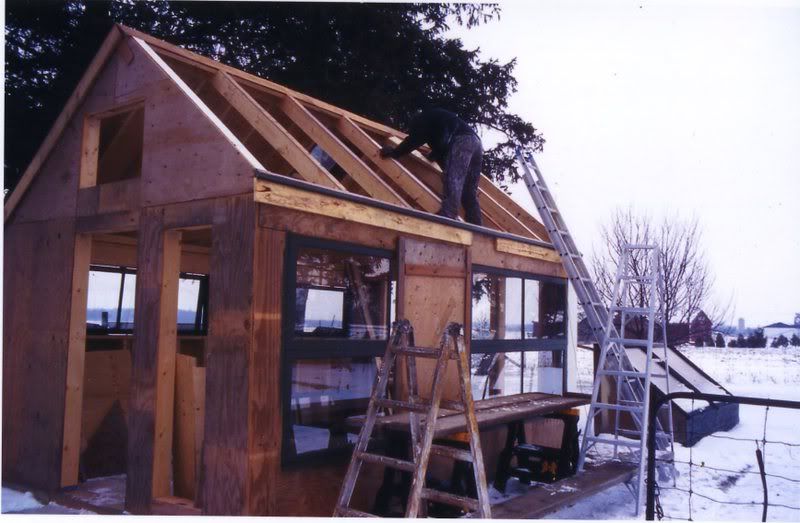 Many of the windows are the old storm windows from the old train station in nearby Sarnia, the south roof are wood framed french doors that were all sitting in a friends hayloft, the wooden half of the floor was a deck on someones home and the brick floor are discounted pavers.
We built the benches from folding table legs and 1×1 deck balusters, the potting table is an old kitchen counter unit that was painted and fitted with new hardware. The door beneath the sink was removed and a sliding bin built to hold ProMix. Plants can be potted in the sink and leftover mix sent down the drain to the bin.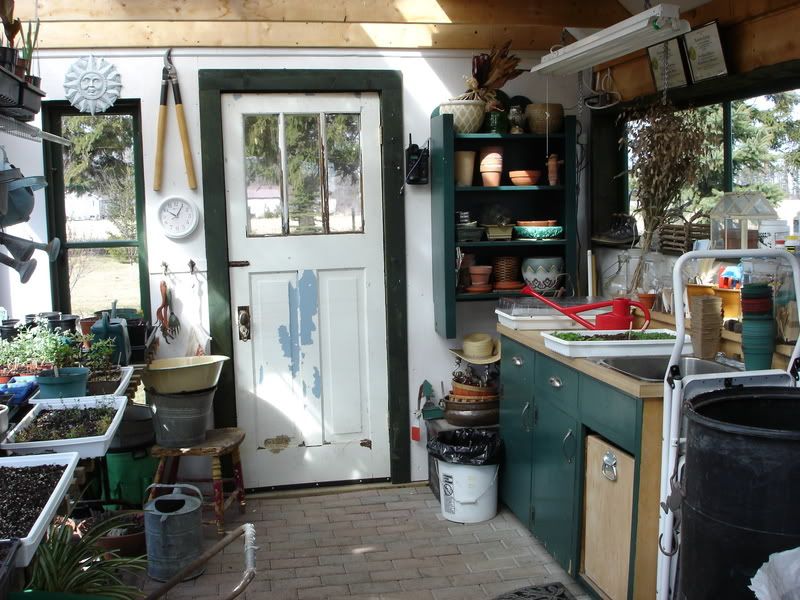 I have electricity and a telephone in the GH. A 50 gallon barrel is filled by hose as my water source.
There is an automatic venting window in the roof, an exhast fan on a thermostat and an electric, oil filled space heater also on a thermostat. In the winter I cover the whole building with a clear Pool Cover, tacked to the building with strips of wood which greatly assists in insulating. Any walls that are not glass and the north side of the roof is also insulated with fiberglass batting.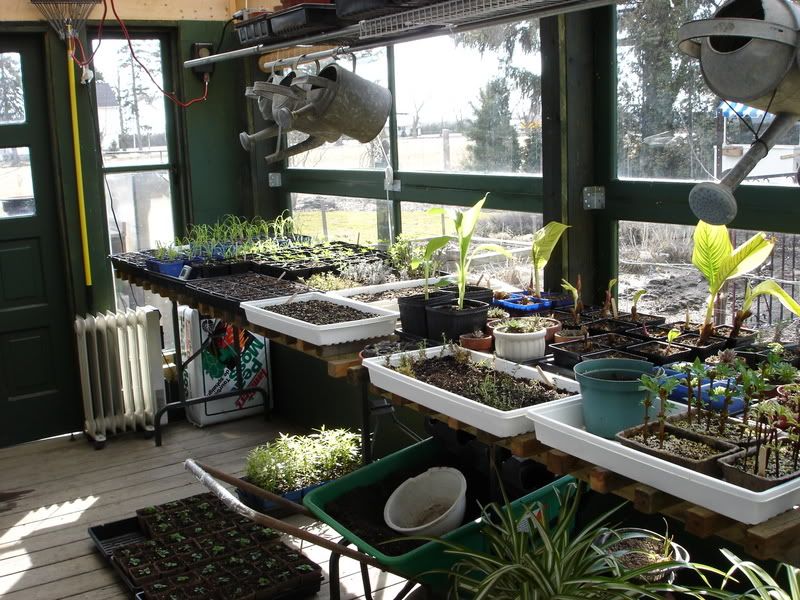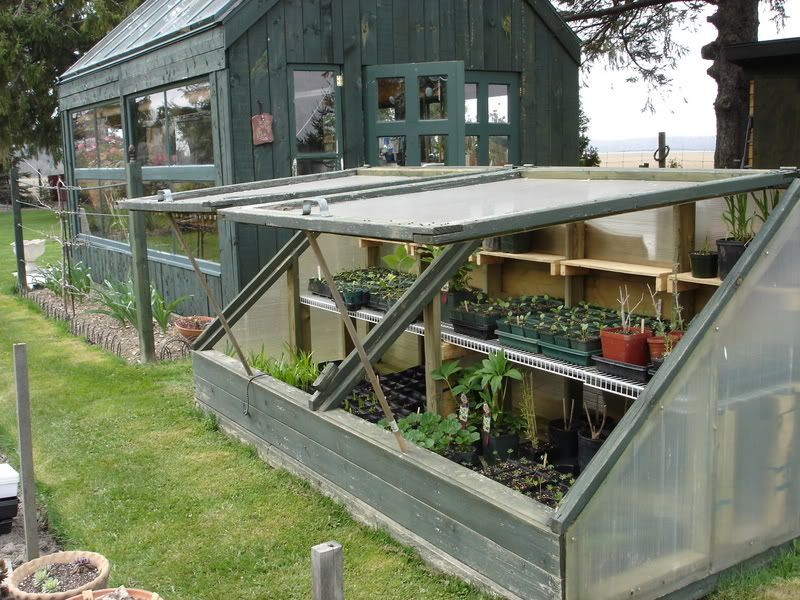 The grow light shelving is used with heat mats to start seeds starting in Jan every year. I bought the unit used at a great price and tho I don't actually need to use the lights since it is in a GH, it makes great shelving for using my heat mats on.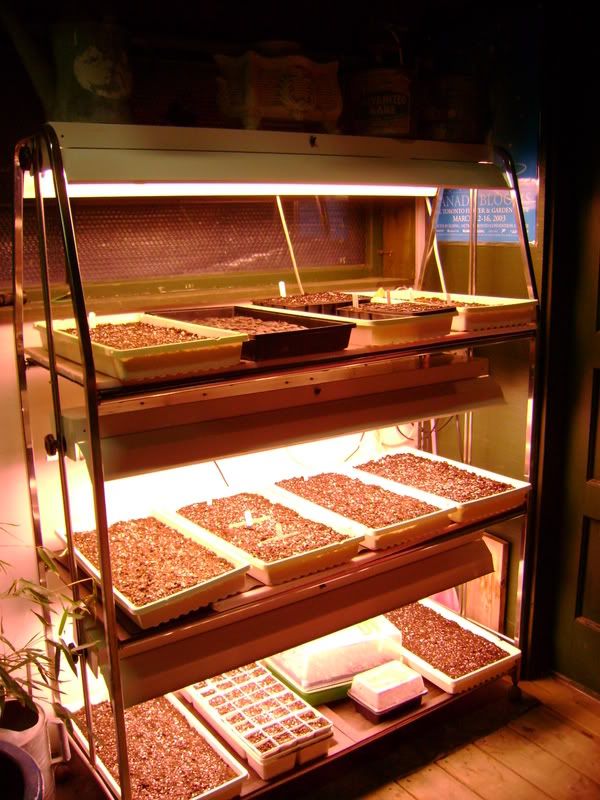 I held a yearly perennial sale for many years at Wyndyacre and the greenhouse was always jam packed with propagrating plants from Jan til the sale in May. I got a new full time job recently and won't be doing the sale any more so will have more time and space to propagate material for myself now.
---
---
---