Halloween Challenge: GardenTenders | LumberJocks | HomeRefurbers
I can hear those hinges creaking for the first time in a long time and see cobwebs and ghosts haunting the doorway. Oh yes, the challenge is on! Create your Jack O'Lantern for Halloween and enter the project in
our GardenTenders' Halloween Challenge. Make it fun and inspire us with your creativity.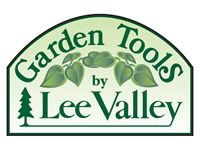 PRIZES
Lee Valley will provide 3 random winners with the following great prizes:
Get your Project in by Saturday November 1st and the winners will be announced on November 2nd. Are you up for the challenge?
HOW TO ENTER
SUBMIT your challenge entry as a project and tag it with challenge02 (of course you may add any additional tags too):

Note that you don't need to use 'challenge02' in the project title (use the meaningful title instead).
You can submit only one entry – give it your best shot.
Describe your entry and how it inspires you to enjoy the Halloween season
The entry deadline is November 1st.
Winners will be announced online at GardenTenders.com on November 2nd.
The Challenge is on. Let the games begin!

-- Michal, http://gardentenders.com
---
---