I'm glad to invite you to our first challenge with the support of Eco Options, brand of Home Depot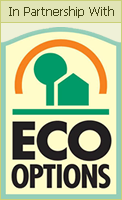 Whether you are a hard-core environmentalist or are just mildly "green" all gardeners hold the earth in great respect – it's the source of their gardening pleasures.
In recognition of your personal efforts to keep your piece of the planet healthy we challenge you to blog about your unique ideas to make gardens and landscapes greener. In a tutorial format, tell others about one thing that you do, or want to do in your gardens to keep them "green" and to reduce the negative impact on our environment as a whole.
Share your wisdom, your techniques and your actions of respect towards our dear ol' Mother Nature.
Prizes
One random winner will get $50 gift certificate from Eco Options
One random winner will get a gardentenders T-shirt
How to Enter and Official Rules
Just add your entry as the regular blog entry and tag it with challenge01 (of course you may add any additional tags too):

Note that you don't need to use 'challenge01' in your blog entry title.
Valid entry must be at least 500 characters long.
The entry deadline is May 31st (CDT time).
Winner and honorable mentions will be announced online at GardenTenders.com on June 2nd.
Here's the page listing all of the submitted entries.
Let's show that we can help our Mother Nature.
-- Michal, http://gardentenders.com
---
---