Several years ago, Pam and I decided to clean out the freezer. In doing so, Pam had an idea that I wished I had thought of. I enjoy making soups and have always kept bones from dinners – chicken, prime rib, pork…. Then when I was ready to make a soup, I'd start by grabbing some of the bones to make my stock. Pam, noticing all the bones, suggested that I take time to make the stock now and freeze the stock rather than the bones. "This way (she explained) the stock is already made!"
Great idea! However, I did not have enough containers to keep the stock in. I made a big mistake, when suggesting the she go to the store to get more containers – I should know not to let Pam near cash registers!!!
Expecting a $25.00 purchase, I'm off to the kitchen boiling bones into stock!
Some time later, Pam comes home and says "I got you some beer." "Thanks", I said; but she continued to say – "you should drink one or two now before I show you what else I bought." $250.00 later….. which was the unit and nearly a lifetime supply of bags!
Well after my initial shock, I must say that the Food Saver the most useful item in the kitchen. I would guess that I use the Food Saver at least 4 – 7 times a week. I use it not only for stock, but for just about everything I put in the freezer, plus coffee, pine nuts, bread, and other items that we buy in bulk such as rice, and pastas.
Now instead of freezing the bones, I simply make stock after each dinner. I take the bones from our dinner, boil them in a small amount of water and pour the stock into a container in the freezer. I do this each time we have bones left over from dinner. A variety of stock is poured into the same one container in the freezer. One night it may be chicken stock and next week we had pork – it all goes into one container. I also pour the drippings of the roasted meat into the container. Once the container gets full, I pop it out of the container and into a bag and vacuum seal it.
And I use it for many things besides food, such as sealing caulking tubes and glue.
In an effort to clear up some counter space one day, we actually took the Food Saver and other items out of the kitchen and stored them in another room. Two weeks later the Food Saver came back into the kitchen (everything else remained in the other room.)
Here are some more photos and ideas: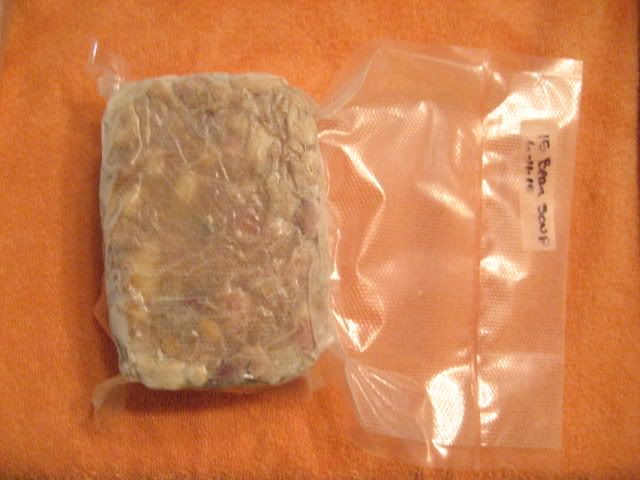 Home Made Soup

I roasted this chick, let it cool and then sealed it. It will store in the freezer till I'm ready to use it. I put it in a pot of boiling water for about 45 mins. In under an hour – from the freezer to the table.

Fresh Beans from the Garden

Dry Goods
If you don't have one… what are you waiting for???
-- Pam grows 'em - I cook 'em...... Melbourne, Fl
---
---