It's been 25 days since I posted an update on my gardens. So much has happened that it's difficult to know where to start.
From May 5th to May 26th, things were going pretty much as expected. I was busy planting, watering, and weeding as I gradually filled the remaining space in the garden. Somewhere around May 15th, we had two nights of frost warnings, so I delayed putting in my cold sensitive plants until the weather warmed up. The onions and potatoes were growing nicely and I had great success starting several types of beans in pots in our laundry room.
Companion Planting:
Over the next week we had several days of above normal temperatures, so I put in my tomatoes, peppers, eggplants, beans, squash, basil, broccoli, cauliflower, brussels sprouts, beets, and a couple of flats of marigolds. I'm trying to plant only organic seeds and heirloom plants this year. Here are some of the heirloom tomatoes that I found at local garden centers after I tried and failed at growing my own tomato and pepper seedlings indoors.
Heirloom Tomato Varieties:
Cherokee Purple
Black Krim
Carolina Orange
Mr. Stripey
Green Zebra
Aunt Ruby's Green
Brandywine
Black Cherry
Lemon Boy
Yellow Plum
Each raised bed that received tomato plants, also received a basil plant and several marigolds. Some also received carrots, peppers, and cucumbers.
Bean Varieties:
Kentucky Wonder
Pencil Pod Black Wax
Royalty Purple Pod
Royal Burgundy
Fava
Dwarf Taylor
Scarlet Runner
Contender
Petit Filet
Black Turtle Shell
Slenderette
The beans were planted in beds that also received ever bearing strawberries, butternut squash, yellow squash, and zucchini.
Pyramid Schemes:
We had a rainy start to the Memorial Day Weekend, so I spent two days in the basement workshop building pyramid trellises for my cucumbers and pole beans to climb. I wanted to build something that would fit over my 4'x4' beds and also be an attractive addition to the garden. The design I came up with is a pyramid that stands 7'6" tall and also allows for a hanging basket in the center. I planted Nasturtium flowers in the baskets, which should grow down to meet my cucumber vines and make a showy display in the garden. I'm waiting for another rainy day to build a few more trellises for my squash to grow on.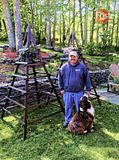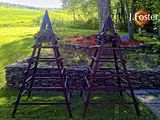 Late Frost:
On May 26th, we had another late frost warning and I had to rush to cover the entire garden. Thankfully, my Father and Brother were available to help.
The next day, I uncovered all of the plants and replaced the tomato and cucumber cages that were used to hold down the landscape fabric and tarps. Some of our tomato and basil plants were nipped a bit and my cucumbers died off completely. Everything else came through without a problem.
On May 27th, we delivered the Bee Hive and my pyramid trellises to the garden. Unfortunately, the hive is empty because the bees died off over the winter. We are going to order new bees eventually.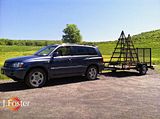 The Flood of 2013:
The evening of May 29th, we were hit with a huge thunderstorm that caused flash flooding that closed several local roads and bridges. It was enough rain to raise the river over the banks and to flood the entire community garden for about 24 hours.
Thankfully, the raised beds in our plot kept most of my plants just above the water. The Bee Hive and Pyramid Trellises were fine.
Here are my photos of the flood:
Holy Carp! The Fish Are Swimming In the Road:

Good Thing The Shed Is Raised Up High: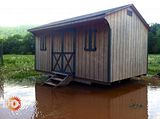 The Tractor and Tiller Escaped The Flood: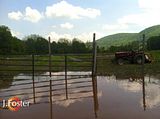 The Community Mower Got Flooded Up Above The Footboards: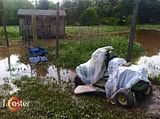 When I went down to the garden to check on things the morning after the flood, I had to put on my fishing waders just to get into the garden. There were carp swimming in the road by the garden shed.
Here's how our plot looked the day after the flood: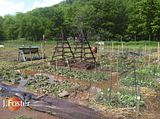 The potatoes had been fully submerged, but they look better than ever since the water receded. The Nasturtium seeds that I planted between the potato plants are also starting to produce leaves.
The only casualties from the flood were the cucumbers which may have been damaged more by the cold weather a couple days before, than by the flood it's self. After three frosts and a flood, I have gone from trying to grow three different types, to only pickling size plants. I'm going to learn how to make my own pickles this year even if I have to buy the cucumbers at a Farmer's Market.
Problem Crops:
Cucumbers haven't been our only problem this year. I'm having a lot of trouble getting carrots started in the garden. I've planted several types and some look great, while others have either not sprouted at all, or only put up a few weak seedlings. I've replaced some of the duds with radishes and beets, so at least we will have something competing with the weeds in those spaces. I had the same trouble with parsnips. I had brand new seeds, but they didn't seem to produce any viable seedlings.
The garden is now almost fully planted. I saved space for a row of pumpkins that I started from seed this past week. The seeds came from pumpkins grown on a local farm last year. Some are white and some are orange. All should grow to be very large. I also have a special pumpkin seed that my Brother saved from a pumpkin that won a "biggest pumpkin" contest. As soon as I see some growth in my starter pots, I'll be transplanting them into the garden.
It's only a few days after the flood and I am seeing small tomatoes starting to form on several of my plants! This is really encouraging. My daughters will arrive from Las Vegas for Summer Vacation in less than a month, and I can't wait to bring them down to the garden to see all the growth (and to help me pull weeds).
I'll have another update in a few weeks.
Regards,
Jeff
-- No GMO's for me. I'll grow my own.
---
---