My Square Foot Layout:
Here are a few photos that I took while I was digging out the garden using my 4' x 4' grid. I made two of these grids that bolt together to form a 4' x 8' platform that sits on two sawhorses for cutting large sheet goods (plywood, beadboard, pegboard, etc.) with my track saw (I'm also a Lumberjocks.com member).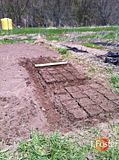 As I was sketching out my garden plans, I realized that I already had the perfect 16 square grid to layout my garden. I gave up a lot of space with my 18" wide walking paths, but I had more room than I needed anyway.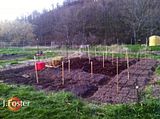 For anyone who wants to build one of these grids, it's a great way to use up a sheet of less than perfect plywood that you may have laying around. Mine was warped pretty badly, but ripping it into 4' long x 3" wide strips and locking them together using lap joints cut with a dado blade on my table saw really straightened it out. I was going to throw the plywood out before I found this use for it. Now it serves two purposes. If you would like to see how to build the grid, look up "torsion box construction" on Lumberjocks.com and I'm sure you will find many helpful examples.
Mulching:
The pathways are lined with straw mulch to keep the weeds down and also to conserve moisture, which has already turned out to be an issue here as we haven't had any rain since April 29th. We are due for some in the next few days and I can't wait for it to get here. It took four bales of straw to cover all of the pathways. An extra benefit is that it's very comfortable to kneel on for planting and weeding and my pants stay cleaner.
I also had a roll of burlap left over from last year, and my Dad had some he was going to throw out, so I used it to cover some of my potato mounds in the front of the garden.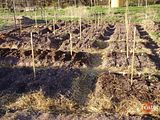 The Solar Powered Water System:
I had planned to spend yesterday afternoon planting a bunch of things, but instead, I volunteered to help another member set up the solar powered water pump that is used to fill the bulk water storage tank that belongs to the Community Garden.
Here are some photos to help explain how it works: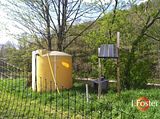 This solar panel is connected to a 12 volt water pump originally intended for an RV.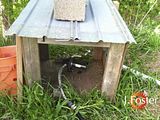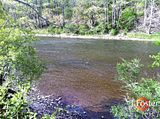 The pump draws water from the West Branch of the Delaware River that flows past on the Northeast side of the garden. I'm amazed that this little pump has enough power to draw the water all the way up the bank and to the top of the 7' tank! This must be at least 13 vertical feet! It's slow, but it does the job. I'm told that it takes three whole days to fill the 3,000 gallon tank.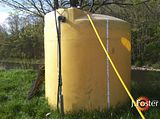 These hose bibs are placed throughout the garden. This one happens to be located directly behind my plot, so I only need about 50' of garden hose to reach everything. The water pressure is only about 4psi, so I plan to keep my water barrel on site so I can fill it from the hose and continue to do most of my watering with a sprinkler can. It's just nice not to have to shlep five gallon buckets up the river bank a hundred times a day. :)
The Pollination System: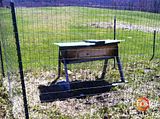 Here is the bee hive, currently located at my Parent's house about ten miles away, that we will be relocating to the Community Garden soon. Probably after dark on a cool and rainy night, to make sure they are all inside the hive and less active. Experts have told us that if you are going to relocate a hive, you need to move it less than three feet, or more than three miles, to make sure that the bees don't get confused.
Don't Neglect Your Family For The Sake of Your Garden:
As you can see, Hunter, my English Springer Spaniel, is less than thrilled with the amount of time I have been spending working on this garden. He has perched himself in one of my planters so I can't put anything in it. I took him on a 2 1/2 hour hike right after I took this photo, so I think we are back on good terms again.
Most Recent Photo: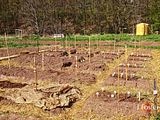 This is how the garden looks as of May 5, 2013.
If you are wondering what it has cost me to create this design, outside of a lot of time and sweat, it's been pretty minimal. I would say that I've spent $40 – $50 on seeds, $30 on new garden tools, $15 on organic fertilizer (which I haven't applied yet), and $12 on plant labels. The stakes were salvaged from an attic makeover that I helped my Brother with a few weeks ago. Two bales of straw were left over from parade float that was built by my Dad last summer. My Brother provided the other two bales. The fence posts were extras that my Dad had in his storage shed. The string for the trellis is nylon kite line that I already owned. The 40 gallon water barrel was originally a pickle barrel that my Brother had been using for collecting maple tree sap to make syrup. The bee hive belongs to my Brother. Even half of the potatoes that I planted were seed potatoes that my Brother saved over the winter. I would say that I've only invested about enough for a nice dinner out for two. In return, I expect to grow enough for several hundred great meals from this garden before the season is over. I can't wait to start sharing my veggies with friends and family. Hunter's favorite snack is carrots by the way.
Stay Tuned For More Updates:
For my next update, I plan to show you my plant list and where everything will be located in the garden. I'm really trying to stay organized this year. We'll see if it turns into complete chaos by the end of the season or not.
Regards,
Retsof (Jeff)
-- No GMO's for me. I'll grow my own.
---
---