Hi Gardentenders!
I haven't posted here in a while because I was in the middle of moving and had to break down all my gardens. I have relocated from Las Vegas, NV (zone 9) to a small town in the Catskill Mountains in Upstate New York (zone 4a).
If you take a look at my older blog entries, you will see that I was into container gardening, out of necessity, when I lived in the desert. This year, I am taking some of what I learned in Las Vegas, and applying it to two much bigger gardens. I will still do some container gardening, but mostly for salad greens and herbs.
The growing season is much shorter here in New York. I would already be picking tomatoes in Las Vegas, and I haven't even put one plant in the ground yet here.
I am VERY fortunate that the town where my Brother lives has a community garden where anyone can rent a plot to grow your own organic vegetables for a minimal fee (about the price of one medium cheese pizza! for an entire growing season!). Shouldn't every town have one of these?!
My Brother has been a member of the Community Garden for four years, but since he now has a house full of small children, and a job that is farther away, he doesn't have as much time to devote to gardening. When I arrived, we decided that we would share his plot. The bargain is that he pays the fee and lets me use some of his equipment, and expertise, and I will do most of the actual gardening work.
The garden is located beside a river that floods every few years. This can be both good and bad. The soil here is fantastic to work. Hardly a rock to be found when digging. The downside is that if the river floods during the growing season, your garden can be a total loss. After ten years in Las Vegas, I was willing to gamble that it won't happen this year.
I was anxious to get started, so I cleaned up the thick layer of weeds and sticks that had accumulated since last year. Under all this dead material is some of the best dirt I've ever had the chance to dig in. I can't wait to see the carrots, beets and potatoes that will come out of this garden!
Before Day 1 (April 25, 2013):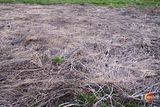 After – Day 1 (April 25, 2013):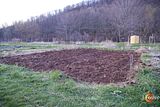 Once I raked off all the debris, I used a hand cultivator to break up the soil and pull out any weeds and rocks. I found less than a dozen rocks in 1,000 square feet, which is amazing! I was able to turn the entire garden over by hand in just a few hours, which I would have never been able to do at my other garden.
Even though space is not a problem for me now, I decided to use square foot gardening just to keep things organized and so I could experiment with lots of different crops. I just happened to have a 4' x 4' plywood cutting grid, that I made for myself while I was living in Las Vegas, so I decided to use it to help me lay out the grid pattern in the garden. The grid is made of 16 – 12" squares. I shoveled the soil from the areas that I intended to become the foot paths into the grid and then packed it down. Then all I had to do was slowly lift the grid and move it to the next location. I repeated this process 20 times over the course of the next three or four days.
This photo shows my plywood grid, as well as the 40 gallon pickle barrel that I am using for bulk water storage. I have a rack on the back of my car that allows me to fill this at the house and bring it with me to the garden each day, saving me from having to haul water buckets up from the river five gallons at a time.
You can see in some of my photos, a 3,000 gallon yellow water tank in the background. This will be available for use in a few weeks and will be filled during the day by a solar powered pump. There are hose bibs placed throughout the Community Garden for everyone to use. Once this tank is up and running, I won't need to bring my own water any longer. Just when I was getting used to rolling that 350lb pickle barrel off my car rack and over to the garden. :)
The wind tends to blow pretty strongly up the river valley, so I wanted to create some sort of wind screen to protect the plants from drying out. My Brother helped me drive in four fence posts and then I ran nylon strings to create a trellis for a 37 foot long row of climbing beans and peas. On the outside of the peas and beans, I planted a row of corn (two types) and then a row of sunflowers (two types). I'm hoping that by layering all of these tall plants, I will eventually be able to block most of the wind from that direction.
There is a second reason for planting the peas, beans, corn, and sunflowers in this location. We are planning to relocate my Brother's bee hive to the "no man's land" between our garden and our neighbor to the left. Once the peas and beans begin to flower, the bees will have plenty of blossoms to keep them well fed.
That's right, our garden will have it's own bee hive! How awesome is that?
Next time, I'll show you how I am attempting to control weeds and conserve moisture as we are experiencing a bit of a drought this week.
Here's a peek at my other garden which is a raised bed that is also filled with some awesome dirt. More on that later.
Regards,
Retsof (Jeff)
-- No GMO's for me. I'll grow my own.
---
---