I was thrilled to see these strange, exotic birds visiting my feeders. This is the first time at my feeders and the first time I had seen these birders anywhere.
I hope you enjoy seeing these pictures…....maybe they'll visit you too!
When I first spotted them, I thought, "Goldfinches?". But those large white patches seen on the back of the males wings just glowed! And I knew I had to find out who these new visitors were. They had the large beak of the grosbeaks and they were a similar size.
Sure enough, looking in my 'Golden Field Guide', Birds of North America, I found 'Evening Grosbeaks'. Here are some more pics.
The female (standing in the center of the photo) is not as brightly coloured as the male but has a beauty of her own.
The large white flashes on the male's wings is very obvious, as is the yellow bar over the top of their beaks.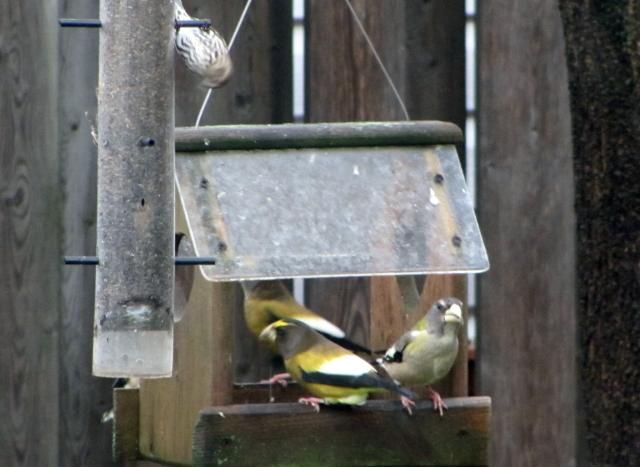 The grosbeaks were very noisey as they squabbled and gobbled at the feeders. They pushed each other off the feeders and were generally bad mannered with each other. However, when they returned the next day they were the ones pushed aside as a large flock of bluejays took over the feeders. They sat quietly high in the birch trees, waiting for the jays to move on.

++++++++++++++++++++++++++++++++++++++++++++++++++++++++++++++++++++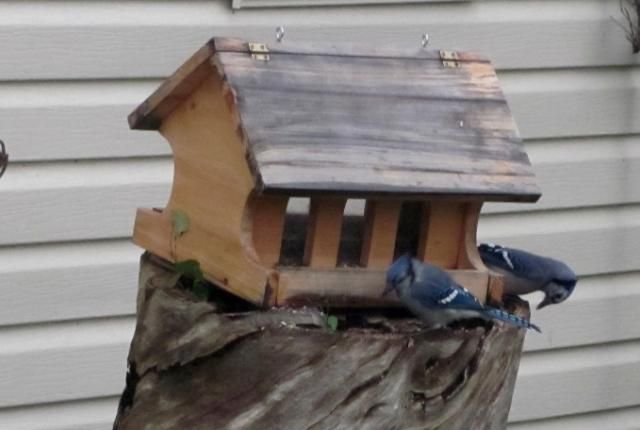 Even a red-bellied woodpecker came to check out why all the excitement…..
-- 'To plant a Garden is to believe in Tomorrow'
---
---