I have enjoyed a gardening forum through the magazine, Birds&Blooms, for many years. It is quite different from GardenTenders and between the two forums I have learned so much from other gardeners. Although the B&B forum has several Canadian gardeners participants, they are very much wide spread and are greatly outnumbered by Americans. However, this allows me to learn about other growing conditions in North America and I enjoy the camaraderie of so many different gardeners.
Every year there has been at least one get-together of these folks, mainly several from the mid to eastern states. Last year it was at a member's home in Iowa. I really thought I'd get to it but circumstances worked against me. I was determined I'd make it this year…...and I did!
A very gererous lady, Bette, who lives near Schroon Lk. in the Adirondack Mts invited us to her scenic home. There, members from 8 different states and 1 Canadian from Ontario gathered.
I left home early Thursday morning, Sept 8 with my little Shunpiker(Trillium camper) and sidekick, Bobby( my bobbed-tail cat). I crossed the border at Fort Erie into Buffalo, NY. My first stop was in Rochester, NY where I stayed the night with Wendy, another B&B board member. Three women flew in from South Dakota and Iowa and were picked up to join us as well as another lady for the drive up to the mountains.
Here is the Shunpiker parked in Wendy's driveway, where I spent the night. Sandy also lives in Rochester and Charlene, Jan and Kathy are the women from the mid-western states.
We left Wendy's house around 8:30 AM, with a long drive ahaead of us. We quickly left the toll road, #90 in favour of a more scenic #9. The traffic on this secondary road was not as fast as the toll road but much more scenic as we passed waterfalls, small lakes and sleepy, little, resort towns. Bette had given us good driving directions and Jan, who rode with me was an excellent navigator!
By 4PM we arrived at Bette's.
And Bette's had me park the Shunpiker in a shady spot under the pines. The house seen in the background is a guest house where half our group slept.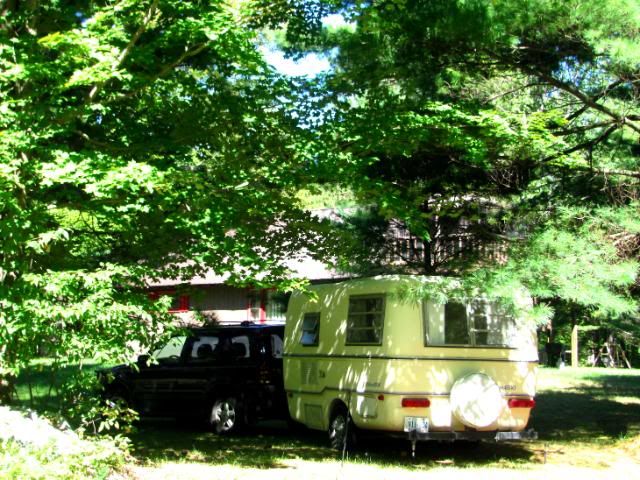 Our first evening, we spent our time greeting and gossiping while we waited for the last of the gang to arrive from the various corners of the country from which they came. The weather had co-operated with no rain although there was storm warning all around us, remnants of the hurricanes. We had a big, harvest moom to light our evening.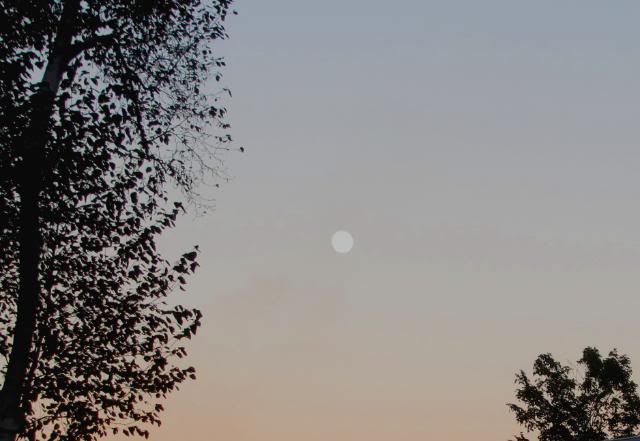 Bette's and her husband built their home on nine acres of rocky, hilly land that over-looks Lk. Schroon. It is not prime farming or gardening land, but what a wonderful setting!

++++++++++++++++++++++++++++++++++++++++++++++++++++++++++++++++++++++++++++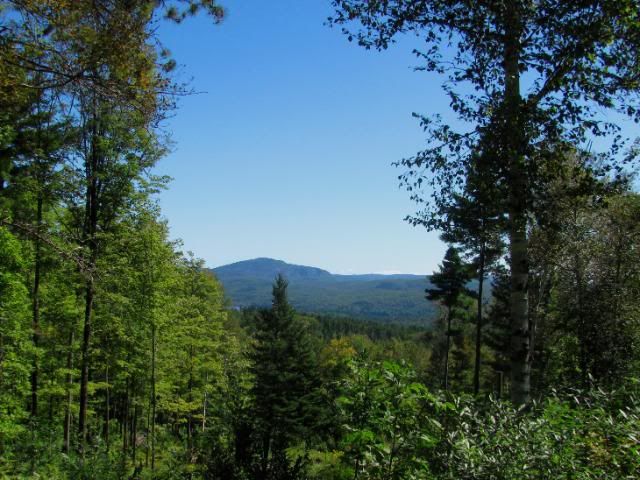 I was on the ground when I took the above pic so the lake only shows as a tiny spot on the far left of the pic. From Bette's top deck, you have a beautiful view of it.
Saturday mornig stated with coffee and breakfast on the top deck and then we got down to seed-swapping!
There were pkgs and pkgs of seeds to chose from. Many of the women are serious seed collecters. I thought of you, Bon. You would have loved this part of the gathering! There were seeds for every flower you coud imagine and many heritage veggie seeds too. Sticking to my goal of NOT planting so many seeds next spring, I only brought home five pkgs of new flowers and one heritage tomato. :D
Saturday afternoon we spent more time talking gardening and problem-solving. Some folks went for walks and some drove into the village of Schroon Lk for sight-seeing and shopping.
With so many people, there was lots of hands to help with food preparation and clean-up. The two men in the group were kept busy with garbage detail, potato peeling and gathering wood for a camp-fire later. Rob is a landscaper and had lots of good info to share. While George may not have been terribly interested in gardening, he was very good at helping Bette wherever he could. We still had lots of time to relax and enjoy each other's company and the beautiful day.
++++++++++++++++++++++++++++++++++++++++++++++++++++++++++++++++++++++++++

++++++++++++++++++++++++++++++++++++++++++++++++++++++++++++++++++++++++++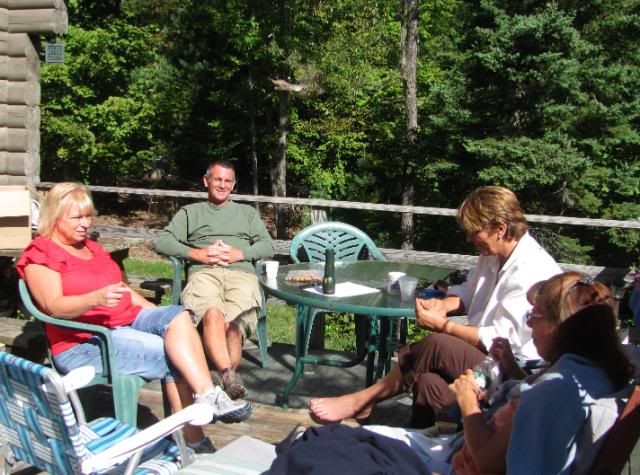 ++++++++++++++++++++++++++++++++++++++++++++++++++++++++++++++++++++++++++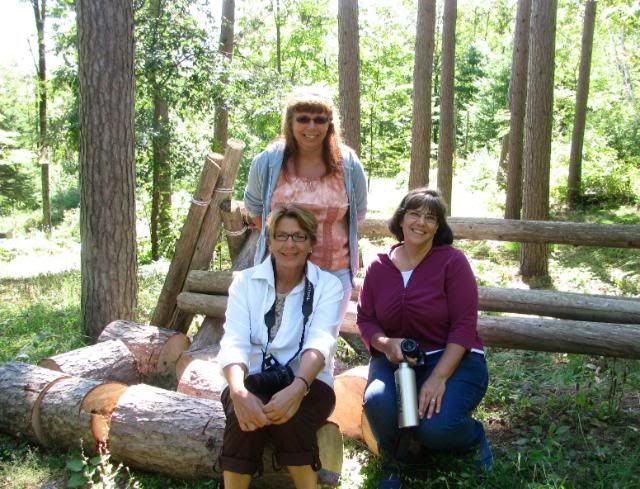 Friday night's meal was relaxed with Coney dogs, hamburgers and salads. Saturday night's meal was more involved. I'll let this picture tell the story…...
As sad as we all were to see the wkd come to an end, many had to get back to their jobs for Monday AM so Sunday morning saw us packing up, saying 'good-bye' and feeling very melancholy as we headed out, homeward bound.
As we know from our GardenTenders get-togethers, once you meet each other, your participation on the board is so much richer. We 'know' each poster we've met. We can 'see' them talk as we read their posts.
I encourage anyone who is just 'thinking' about our GardenTenders get-together next year, to start making definite plans now. Start putting money aside for expenses. Consider what plants you may need to curtail if you are leaving them for a few days without care. Plan time off at work if that is a consideration for you.
And hopefully I'll meet you there!
-- 'To plant a Garden is to believe in Tomorrow'
---
---